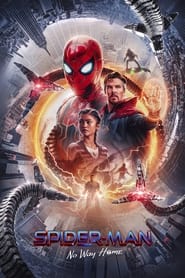 Spider-Man: No Way Home (2021) Hindi & ENG V2 HDCAM [New Hall Print] 480p, 720p & 1080p | GDRive
Screenshots
SpiderMan: No Way Home (2021) Peter Parker is unmasked and no longer able to separate his normal life from the high-stakes of being a super-hero. When he asks for help from Doctor Strange the stakes become even more dangerous, forcing him to discover what it truly means to be Spider-Man.
Original title
Spider-Man: No Way Home
Download
Quality
Language
Size
Spider-Man: No Way Home
**SPOILER ALERT**
I'm really about to spoil this movie, so if you haven't seen the movie and want to be surprised, don't read this.
I cannot express how much I thoroughly enjoyed this movie. It was a cinematic masterpiece that gave so much nostalgia. The inner child in me came out and I really felt like such a giddy kid at Disney world. I grew up watching all the Spider-Man movies as a kid, and of course Tobey Maguire was my favorite. He's the og and he's the reason I absolutely adore Spider-Man. Then Andrew Garfield's Spider-Man movies came out and I loved those just as much, but of course I hated the ending in the second one. Now on to Tom Holland's Spider-Man, and I have to say, he's incredibly good. He nailed that role. All of them are so amazing and play such a unique Spider-Man.
Now on to the movie. Every part was amazing, it didn't feel dragged out or anything. Of course more time would've been nice, but it was still fantastic. It was so cool to see Daredevil in it for a little bit. That scene where he fought doctor strange was just mind-blowing. I had a feeling Aunt May was gonna die, especially since she said that famous quote from Uncle Ben in Tobey and Andrew's movies. Absolutely heartbreaking, but it builds on to the character development. I just knew that Tobey and Andrew would be in this movie, but a small part of me doubted it so that I wouldn't get my hopes up. But when they came on to the screen, it felt so surreal and the audience went wild. It was so incredible to see all of our favorite Spider-Man on the screen together. I loved seeing them and their interactions. My favorite part was when MJ fell and Andrew's Spider-Man caught her😭 like, it felt so heart-warming and it genuinely brought tears to my eyes because we all know he couldn't save Gwen, but he just had to save Tom's MJ. And you could see him getting all teary eyed and it just made that moment even more special. Honestly that was one of the greatest scenes and I just keep replaying it in my head. I have never seen an audience go this wild (even compared to Endgame/Infinity War) when Andrew swooped in to save her, there was so many applauds and "awwws" all around. Truly magnificent. I absolutely loved it.
The ending was bitter-sweet. We said goodbye to our favorite characters and I hate that everyone forgets Peter Parker (Tom), but it makes sense and we all know he will get MJ and Ned back. The first post credit scene was hilarious. Venom was there the entire time and rather than destroying stuff, he just sat at the bar and drank away. Him leaving behind a piece of the black goo stuff feels like another Spider-Man movie will be in the works. If that's the case, I really hope to see Venom/Eddie, Harry Osborn, and maybe even Gwen Stacey.
The directors and all cast and crew truly did such a phenomenal job on this movie. It's really everything I wanted and more. Absolutely incredible. I can't wait for it to come out on a streaming service or DVD so I can just keep rewatching it. Also super excited for the future interviews for Tobey and Andrew. Again, this movie was beyond amazing and I can't believe it actually happened!!
Spider-Man: No Way Home